Leaving a Legacy of Hunger Relief and Hard Work: Remembering G. William (Bill) Hurley

Up until spring 2021, if you visited Smith's grocery store in Casper, Wyoming, on a Saturday morning, chances are you'd run into Bill Hurley. Coupons in hand, Bill almost never missed a Saturday morning at Smith's: browsing the aisles for the best deals, inspecting the produce for just the right melon (or whatever fruit happened to be on sale that day), and keeping an eye out for any fellow shoppers who might be in need of a little extra help. For those individuals, Bill would quietly get into the check-out line behind them, then respectfully offer to pay for their groceries. He never did this to cause a scene or draw attention to himself but rather because he knew what it was like to experience hunger, and he didn't want any of his neighbors to have to endure that hardship.
G. William (Bill) Hurley was born in 1929 in Pennsylvania at the onset of the Great Depression. As one of three boys, he and his brothers and parents grew up like many families in America at that time: without enough food to eat. When he was old enough, Bill enlisted in the Army and served with the Corps of Army Engineers, helping map the Panama Canal. From there, he moved to California where he lived with his uncle and used the G.I. Bill to get his geology degree from UCLA. Bill put his education and experience in the Army to work with a career in the oil exploration business, a path that eventually led him to permanently move to Casper in the 1960s. He lived and worked there until his death at age 92 on May 23, 2021.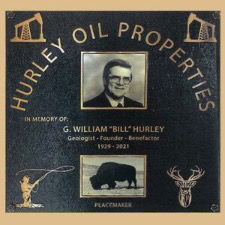 A quiet man with a keen sense of humor, Bill believed in hard work and backed that belief with action: even on Saturdays, following his trip to the grocery store, Bill would head to the office, ensuring everything was in place and running smoothly. While hard work was Bill's main passion in life, food was a close second.
"Bill really enjoyed food," said Jason Gutierrez, Bill's long-time friend and co-trustee of his trust. "He had an elaborate pantry in his home and always had an incredible amount of food on hand, which he would catalog and rotate. Food gave him a sense of accomplishment and security, I think, especially since he grew up without much of it."
When it came time to draft his trust in the early 1980s, Bill chose organizations to benefit that represented causes that were dear to him. Included among them was Food Bank of Wyoming.*
"Bill meticulously researched all of his beneficiaries and was impressed by Food Bank of Wyoming's dedication to hunger relief and the fact that 96 cents of every dollar goes directly to the programs," said Jason. "Hard work and succeeding were important to Bill. He was passionate about helping people achieve their goals, whatever they might be. He also believed that if you're hungry, you can't focus on your true calling. By taking care of their basic needs, people can focus on the bigger things; they can work hard and succeed, like he was able to do. Helping end hunger by supporting the Food Bank was Bill's way of giving whoever needs it a hand-up in life so that they can thrive."
By including Food Bank of Wyoming as a beneficiary of his estate, Bill's legacy will be one of hard work, generosity, and igniting the power of community to help end hunger in his beloved Wyoming. Bill worked hard and planned carefully so that other people might benefit long after he was gone.
If you're interested in learning more about why and how to include Food Bank of the Rockies or Food Bank of Wyoming in your will or estate plan, contact our office of planned giving by reaching out to Laurie Hagerman, major and planned giving manager, at 720-715-7720 or lhagerman@foodbankrockies.org. You, too, can use your legacy to help feed our neighbors experiencing food insecurity across Colorado and Wyoming.
*Food Bank of Wyoming is the distribution center of Food Bank of the Rockies that serves the people of Wyoming.
© Pentera, Inc. Planned giving content. All rights reserved.
Disclaimer